With inflation at record highs, the need for cutting costs as a family has never been greater. Don't let your running goals suffers as a result. I've been employing these money savings tips with my running since the beginning COVID and you may find them helpful too.
Running is one of the best, low-cost ways to get and stay in shape. You do not need any special equipment, a membership is not required, and it is accessible to nearly everyone. While running is generally a cost-free sport, there are a few items you will need or want that can be acquired very affordably.
Let's face it, the economic stress is hitting everyone with food, gas, rent, and other basic needs soaring. Most of us are trying to trim the monthly expenses to keep within the family budget and any non-essential spending has been curbed. While running gear and shoes are the top expenses for most new and experienced runners, they can still be found affordably or substituted with other options. Read on for some creative ways to save big money while safely reaching your running goals.
Thrifty Running Gear Tips & Tricks
Technology has certainly made running a lot more effective and fun. This technology can come with a price tag that may put additional strain on already tight budgets. The good news is there are options that can help you accomplish the same goal and keep your expenses down.
Use a free running app instead of a running watch
One of the most expensive gadgets for running is a GPS running watch. These are convenient tools for tracking your runs and your progress. The average GPS running watch ranges from over $100 to $500 or more.
Unless you already own one, purchasing one is probably not in your budget. As they are extremely useful you could consider purchasing one secondhand, but this may not be the best solution.
As an alternative, consider using a free running app to track your distance, time, and pace until you can afford one. There are a variety of running apps available with free downloadable versions. These are great options that use your phone GPS.
The most popular running app is Strava. It is easy to use, tracks all the basic metrics, and you can follow others. This is my main running app and I love following friends and family with it.
In addition to Strava I have two other running apps that I like to use. The apps each have slightly different free features which give me almost all the metrics I want to track. The one app is by Adidas called Running and the other is Run Tracker by Fitness22.
Affordable Cell phone holders for exercise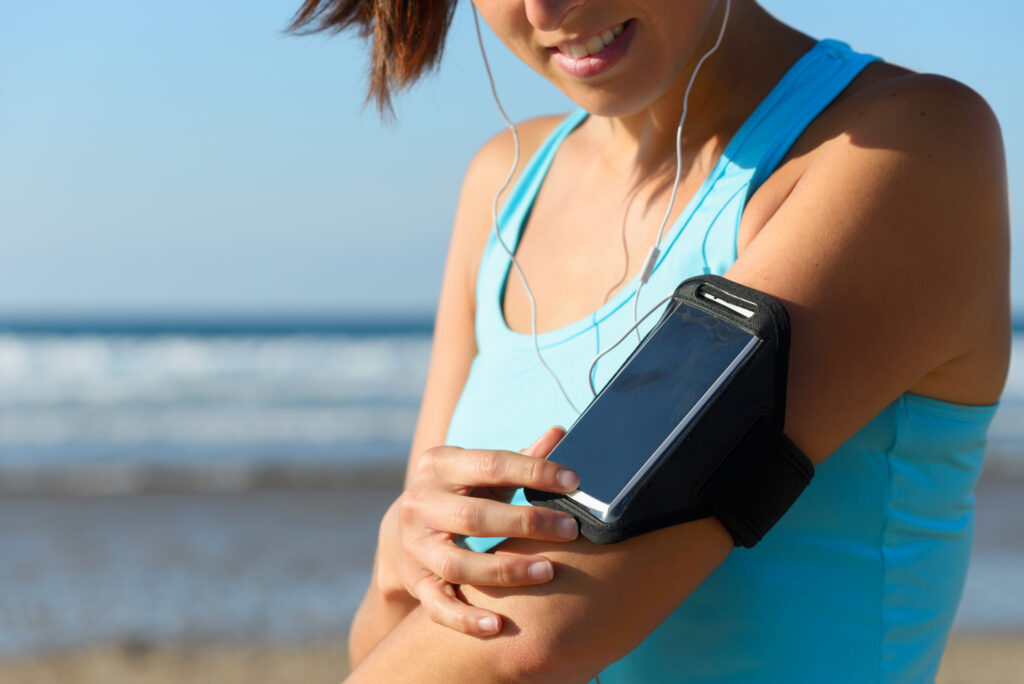 Regardless of using a running app or not, you likely want to take your cell phone with you as you run. There are a few affordable options to safely carry your phone. Armbands and waist belts are good options and rather affordable.
A free option for safely carrying your phone is to make your own cell phone armband. There are a few DIY YouTube videos that use a sock for making an armband. I personally like this option and found it very convenient. (How To: DIY ways to carry your phone at the gym – YouTube)
Not only is this a cheap option, but I found it more convenient for two other reasons. I didn't like taking my phone out of the case to place in the clear armband pocket as my phone would not fit without taking it out of the case. I also found the armband plastic window did not hold up over time with my running.
Other Running Gear at discount prices
For running clothes and other running gear consider visiting a secondhand shop such as Goodwill. You can find good brands for running clothes and other running related items you may need. I've found many brand-new clothes with tags on them and it's not a big deal if you end up not liking it for some reason.
You can also find other running gear if you look in the sporting goods section. I was able to find a great running vest and it's been perfect. I was debating on buying a brand new at REI as they had a good sale, but didn't like them as much as my secondhand store one.
Besides clothes, I have found other needed items such as free weights, massage sticks, yoga mats and more. These items can all be safely disinfected for use and no one needs to know all your money saving secrets!
Save big bucks on shoes
The most essential and expensive item you do need for running are shoes. A good pair of running shoes are worth the investment and will save you lots of money down the road in medical expenses. The average running shoe goes for around $100-$150 though you may find ones a bit cheaper or more expensive.
I have used the following two secrets for buying good running shoes at affordable prices.
Buy last year's model running shoe at 50%-80% off current retail prices.
Buy a slightly worn running shoe on eBay at around $40-$60 with shipping.
I've found these to be great ways to keep my costs down during the pandemic and have continued to use these methods.
Each year, shoe companies release new models of their popular running shoes much like cars. You can usually find a prior year version of the same shoe at deeply discounted prices online.
This is great if you already have a shoe you love as each model released has slight changes that you may not like. By searching for the original Brooks Ghost 11 shoes I purchased a few years ago, I found a brand-new pair half off last year.
Buying shoes on eBay may sound a bit less attractive but it can be a good option for newer runners that aren't sure which shoe they will like best. You can try on a few different brands and styles at a local shoe store and then purchase the one you like on eBay.
By purchasing slightly worn running shoes on eBay I have also been able to "try" out several different style of shoes without laying out hundreds of dollars. For a third of the retail cost, I can find a nearly new pair of good running shoes with very little wear.
Buying gently used shoes not only helps the environment, but it helps others too. The first or second pair of shoes I bought this way shortly after COVID came with a note attached from the seller thanking me for my purchase as the funds were desperately needed. This is a win-win for everyone.
If you do choose to use eBay, read the description carefully and look at all the pictures. I pay close attention to the tread. I typically will not buy shoes if I see any wear on the tread. I think it goes without saying, but I'll say it anyway, if you do use gently used shoes, remember to disinfect and always wear socks!
Final Notes
Running is a great way of coping with all the stress we deal with including economic pressures. You can still find ways to run safely and in style while staying within a budget. Running gear and shoes are the biggest expenses but by employing the tips above I've found you can still have what you need and most of your wants as well.